Volatility vanishes (again), but it should be back (again)
Tim Holland, CFA, 3 years ago
2 min

read
1084
More than once last summer, we were asked our thoughts on the early 2018 spike, and subsequent drop, in market volatility as measured by the VIX, Wall Street's "Fear Index." We noted we weren't surprised by the return of volatility, an accelerating economy and rising rates were expected catalysts, nor its departure. We also believed volatility would be back, and back it was in the fourth quarter, before it vanished again. Given the rather volatile behavior of late – well, market volatility – we thought now was a good time to touch base on the topic.
To back up, in early 2018 the VIX spiked to 40 and the S&P 500 Index sold off sharply on a January jobs report that showed greater than expected wage inflation. While the economy and the market welcome modest inflation, an ever-present concern is accelerating inflation that forces the Federal Reserve (Fed) to raise interest rates aggressively, ultimately pushing the economy into a recession and stocks into a bear market. When there was little inflationary follow through post the January jobs report, and economic and earning reports continued to top expectations, volatility declined sharply and the market rallied strongly. That is until Q4 as investors grew concerned the Fed would raise rates and shrink its balance sheet more than economic and market conditions merited, and the US and China would enter a full blow trade war, the VIX spiked and stocks corrected. Then, as the Fed walked back its hawkish talk on rates and its balance sheet, and we received more good news than bad on the state of US/China trade negotiations and economic data came in largely as expected, the VIX peaked and the S&P 500 bottomed in late December. Since late December, the VIX has collapsed 23 points and the S&P 500 has rallied 19% – see the below chart for a look at volatility through 2018 and into 2019.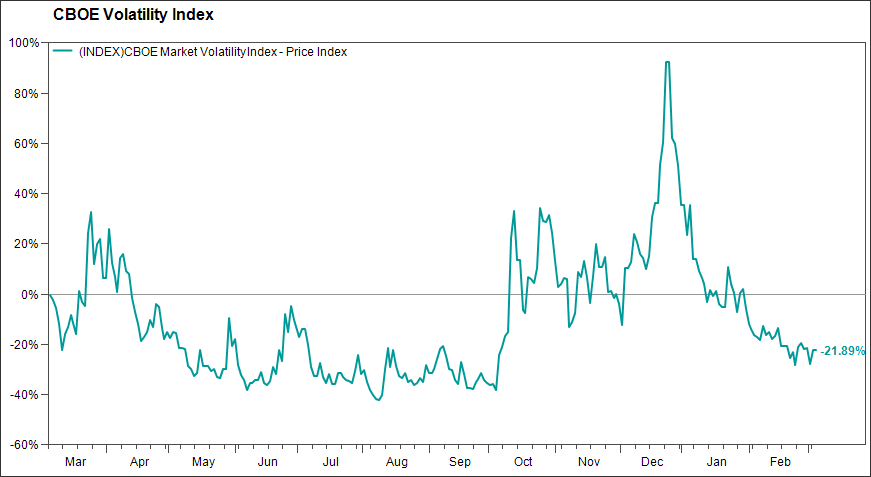 While we welcome the move higher in the S&P 500 and the decline in the VIX, we doubt we have seen the last of market volatility, with potential catalysts including better than expected economic growth and US/China trade relations. However, a bumpy market isn't a bear market, and as long as fiscal policy and monetary policy remain accommodative, and inflation contained, US equities should be biased higher.
The views expressed are those of Brinker Capital and are not intended as investment advice or recommendation. For informational purposes only. Brinker Capital, Inc., a registered investment advisor.
Chart source: FactSet
Tagged: Tim Holland, Federal Reserve, market volatility, S&P 500, trade wars, VIX, US/China trade, weekly wire
Tim Holland, CFA
Tim Holland is the Chief Investment Officer at Orion Advisor Solutions, where he oversees the investment management and strategies for Orion Portfolio Solutions and Brinker Capital Investments. Prior to his current role, Tim was the Global Investment Strategist at Brinker Capital where he worked with senior members of the investment team to develop and deliver Brinker Capital's macroeconomic and capital markets outlook, including the company's investment views and portfolio positioning. Tim has over 20 years of investment experience. Prior to joining Brinker Capital, Tim was a Portfolio Manager at TAMRO Capital Partners, where he directed overall portfolio construction on two long-only, US equity strategies based on fundamental company and industry analysis and understanding the potential impact of economic, industry, and political trends on portfolio holdings. Prior to TAMRO, Tim was employed as an Equity Analyst at Manley Asset Management, a long/short hedge fund firm. Additionally, he was a Partner at Towers Group, a boutique corporate communications firm providing media and public relations counsel to capital markets companies. Tim received his Bachelor of Arts in political science from Drew University. He holds a FINRA Series 65 designation and is a CFA® charterholder. Tim's investment commentary can be found in various business media, including CNBC, Fox Business, Bloomberg TV, Bloomberg Radio, The Wall Street Journal, Investor's Business Daily, and Financial Times.
Related posts